Looking for the best roads in Europe? 🤔
Well, The Netherlands is the place!
The country has outperformed even Singapore 😱when it comes to road quality as per the publication by World Economic Forum and Euronews. 📰 We have already heard about the bicycle paths 🚴🏾‍♀️ which account for more than 35,000 kilometres of the country's network, but The Netherlands tops the list even for best quality with a score of 6.4. One of the best road trips can be done with the Zeeland Delta Route. 🌁
These Delta works (de Deltawerken) were built after the Watersnoodramp, i.e. the North Sea flood in 1953. 🌊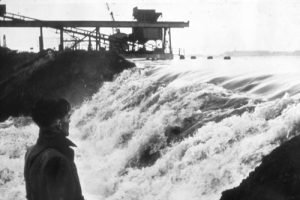 This was the time when the dykes broke open because of a fierce storm causing floods (een overstroming). The Southern province of The Netherlands, Zeeland, was severely hit by this.
Houses collapsed, 🏡 people were swept away and many drowned. 😔 Aid could not be provided immediately, because de telefoonverbinding was verbroken. ☎️ Toen was er ook geen internet! 🖥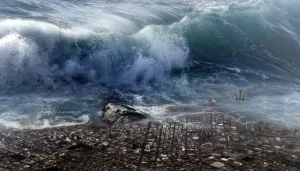 Does it make us also relive the period when the deadly Tsunami had hit the world and the southern part of India 🇮🇳 in 2004. Even the thought makes our heart sink today! 💔
Photo credit: Zee News
But to avoid this and take extra precaution, Dutch innovation (which again ranks 5th in the world), their creative engineering and infrastructure 👷🏻‍♂️🧱⚒🚧 has helped avoid this calamity again. Thence, the Zeeland Delta Works. 
The Six-castle route in Friesland, 🏰 the road trip 🛣 from Groningen to Zwolle and Den Helder to The Hague cannot be missed either. 🚘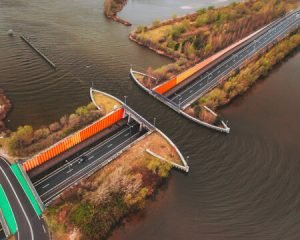 The Veluwemeer Aqueduct which is located over Veluwemeer 😍and connects to Flevoland is a marvellous eye-catching view. Another remarkable bridge is de Erasmusbrug in Rotterdam 🌉with a picturesque beauty at night. 
"Splitting of the bridge in Rotterdam in the middle of a highway, so that the boats and ships 🚢can pass by can be one lifetime experience. A normal stoplicht 🚦is also covered with cameras in all directions and even a slightest mistake of jumping a red signal 😋would get you some handsome fines (een boete betalen) in your brievenbus. 📮There are multiple stripes on the roads on the highway which have their own specific significance, and it is an obligation to abide by all of those strict traffic rules. One will never find even a smallest pothole nor a bump throughout the country," aldus Heena Chichkar van Lankeren.  ☺️